The Best Workout Hairstyles
Fashion Advice - May 19, 2019

We've all been there; you've just hit your stride on your morning run when your hairband gives up the ghost, your ponytail flies free, and all of a sudden you're the world's fastest Cousin It. Whether you want to get your hair off your face while you run, you need to tame a tricky mane at the gym, or you need a secure 'do for some high intensity training, we've created a guide to the best workout hairstyles for exercise. And, since it's us, you know these are going to look great, too!
" Whatever your workout hairstyle concern, we hope our guide has given you some fun and pretty options to choose from." - Sistar Kenya
Silk Scarf
If you struggle with frizzy or flyaway hair, a regular hair band might cause split ends and make frizz even worse. A silk scarf is a much better option when it comes to workout hairstyles for frizzy hair. It'll keep your hair off your face, prevent sweat from getting in your eyes, and be extra gentle on your locks. Plus there are so many styles to choose from online, you can have one to suit every workout outfit.
High Ponytail
Simple, pretty, and super easy to achieve, the high ponytail is great for high impact exercises as it stays put no matter how far you run or high you jump. We also love a high pony for keeping hair out of our faces.
Top Knot Bun
If you're doing more strength work than cardio and building up a bit of a sweat, a top knot bun can be a better option as it will hold the hair off the back of your neck. Plus it's a really easy way to look uber chic at the gym.
Long Hair, Do Care
French Braid Pigtails There's a reason this style is sometimes known as 'boxer braids'! French braid pigtails are a great option for impact sports like kickboxing or martial arts, because they'll keep your hair out of your eyes even if you have a fringe or bangs. As well as being pretty, these braids will stay looking good even if you get sweaty.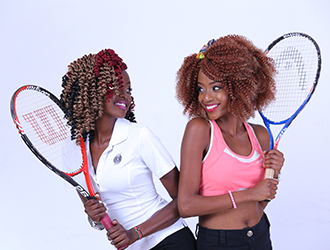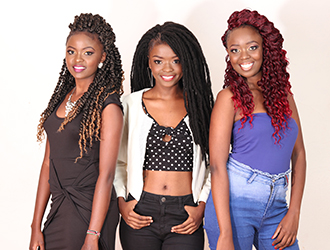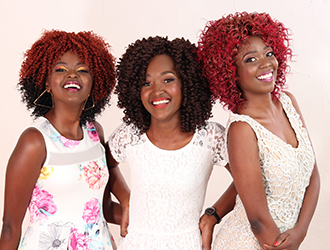 Braided Pony
If your hair is wavy or very soft, you might find a regular ponytail just won't stay put. A braided pony is much more secure and will keep your hair safe from getting caught in any gym equipment! Try a french braid pony if you don't want any loose hair getting in your face. Accessorise Short hair seems like it would be more practical when it comes to exercise, but it can be annoying when your hair isn't long enough to stay put in a regular pony or bun. If this is you, it's time to accessorise. Headbands will keep wispy bangs away from your eyes while bobby pins will be your new best friend when it comes to securing shorter tresses.
Twists
If your hair isn't long enough to plait, you can try twisting it instead. A sleek twist is one of the best workout hairstyles for short hair, because it helps to avoid any frizzy ends poking out, and can be easily held up with pins if you haven't got enough hair to be held by a hairband. Twists can also be great for keeping natural hair in place.
Pineapple
Curls might be tricky to tame at the gym but that doesn't mean they should be hidden away in a boring bun. A pineapple is a great way to keep your curls off your face and show them off at the same time. Accessorise with a headband to stay sweat-free.
Sistar Kenya
Sistar Kenya is a unique brand of Hair products available in the Kenyan market We have transformed the look and feel of the Kenyan ladies through our bold styles up to date innovation.